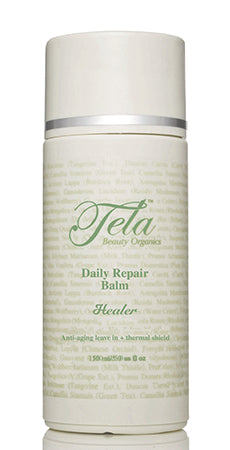 Organic leave-in conditioning and heat protection product repairs split ends.  Guards against high temperatures during thermal styling.   Advanced formula now contains certified organic Baobab Oil, anti-aging protection for healthier hair.
Features & Benefits
Multi-tasking styling treatment. Repairs, conditions, hydrates, heat protects, reconstructs, strengthens, gives texture and shine. Anti-infammatory and anti-irritant benefits. For all hair types. Unique organic preservative system naturally protects this revolutionary emulsion. Excellent for time crunched people. Skin soothing benefits. Can be used on wet or dry hair. High concentration of Moisturizers, Antioxidants, Strengthening Proteins, Super Fruits and Anti-irritants.
How To Use
Use a dime, nickel or quarter size amount, depending on hairs' thickness and length. Healer is extremely concentrated so start out with less and build from there until you find the perfect amount for your hair type and length.
Rub into palms and apply to hair from root to end with extra focus on the ends of hair. For finer hair, target the mid shaft and ends of hair specifically. Air-dry or blow dry style. For optimum conditioning effects, apply heat. HEALER works wonders on dry hair before flatiron or curl iron sessions. HEALER can be used as a spot treatment to sooth a dry, itchy, or irritated scalp.
Tela's Certified Organic Restoring Blend
Blackberry, Fo-Ti, Reishi Mushroom, Pomegranate, Sea Buckthorn Berry
Tela's Certified Organic Base Blend
Apricot, Burdock Root, Bilberry Extract, Bupleurum, Carrot, Chrysanthemum, Chinese Orchid, Chinese Giant Knotweed, Dandelion, Dong Quai, Fig, Fo-Ti, Forsythia, Ginko Biloba, Grape, Green Tea, Horsetail, Kiwi, Ku Shen, Licorice, Milk Thistle, Milk Vetch, Mongolia Oak, Oolong Tea, Pine Bark, Plum, Pomegranate, Reishi Mushroom, Rhodiola, Solomon's Seal, Tangerine, Tomato, Water Celery, White Tea, Wolfberry.
Tela Signature Fragrance
USDA Certified Organic Lavender.
Full Ingredients List
[(Certified Organic Restoring Herb Infusion: Aloe Barbadensis Leaf Juice, Camellia sinensis (Green Tea), Camellia sinensis (Green Tea), Camellia sinensis (Oolong Tea), Actinidia Chinensis (Kiwi), Angelica Sinensis (Dong Quai), Arctium Lappa (Burdock) Root, Astragalus Membranaceus (Milk Vetch), Bupleurum Falcatum (Bupleurum), Chrysanthemum Multiflorum (Chrysanthemum), Citrus Reticulate (Tangerine ), Daucus Carota (Carrot), Dendrobium Nobile (Chinese Orchid), Equisetum Arvense (Horsetail), Ficus Carica (Fig), Forsythia Suspensa (Forsythia), Ganoderma Lucidum (Reishi Mushroom), Ginkgo Biloba, Glycyrrhiza Uralensis (Licorice), Hipphophae Rhamnoides (Sea Buckthorn Berry), Lycium Barbarum (Wolfberry), Lycospersicum Esculentum (Tomato), Oenanthe Javanica (Water Celery), Pinus Tabulaeformis (Pine Bark), Polygonatum Officinalis (Solomon's Seal), Polygonum Cuspidatum (Chinese Giant Knotweed), Polygonum Multiflorum (Fo-Ti), Prunus Armeniaca (Apricot ) Fruit, Prunus Domestica (Plum), Punica Granatum (Pomegranate), Quercus Mongolica (Mongolia Oak), Rhodiola Rosea (Rhodiola), Rubus Villosus (Black Berry), Silybum Marianum (Milk Thistle), Sophora Flavenscens (Ku Shen), Taraxacum Monogolicum (Dandelion), Vaccinium Myrtillus (Bilberry), Vitis Vinifera (Grape)], Certified Organic Glycerin, Certified Organic Helianthus Annuus (Sunflower) Oil, Certified Organic Adansonia digitata (Baobab) Seed Oil, Certified Organic Butyrospermum Parkii (Shea) Butter, Certified Organic Grain Alcohol, Cetearyl Olivate, Sorbitan Olivate, Certified Organic Lavandula officinalis (Lavender) Oil, Certified Organic Xanthan Gum, Certified Organic Lecithin, Certified Organic Prunus Amygdalus Dulcis (Sweet Almond) Oil, Hydrolyzed Quinoa, Gluconolactone, Sodium Benzoate.
Complimentary shipping on all U.S. orders.
We will ship your order within 4 business days, provided that the item(s) that you have ordered are in stock. In the event that the item(s) are out of stock, you will be notified within 4 business days.
If for any reason you are not completely satisfied with any purchase made at telabeautyorganics.com, you may return any item, (excluding all travel size products, and samples), within 10 days of receipt for a full refund, less shipping charges. Any products not purchased at Telabeautyorganics.com should be returned to original point of purchase. Refunds must be applied to the original credit card used for purchase. You will receive an e-mail confirmation when your return is received and your refund is being processed.
To return an item, repack the item in its original packaging if possible, and ship via insured carrier (FedEx, UPS, or USPS) to:
Tela Beauty Organics
Attn: RETURNS
1700 East Carson Street
Pittsburgh, PA 15203
Tela Beauty Organics is not responsible for return items damaged or lost in transit.
If you are returning an item because it is damaged or defective or you did not receive the product ordered, we will provide a prepaid return label.
Product exchanges are not offered at this time.